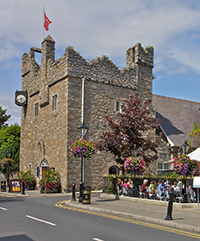 Dalkey Castle where 21st century technology meets 15th century living history!
The Living History actors are ready to welcome you to Dalkey Castle!
Great Fun for all ages!
Let your imagination flow and travel back in time to the 1500s with our Living History actors and be enthralled by the extraordinary work of the Archer as he shows you his skills with the Longbow. Smack your lips to Tudor recipes at the Cook's table. Learn how to make hedgehog pie! If your beard or hair is in need of a trim, the Barber Surgeon has special offers most days! Join in the fun and hear about ancient remedies and marvel at the implements for curing all ailments!
Climb to the battlements for panoramic views of sea and mountains.
Enjoy the peace and tranquillity of the early Christian Church and Graveyard, dedicated to Saint Begnet. Leave all your worries with St Begnet on the Weeping Wall of the 10th century Church.
Browse the interactive time line in our modern Heritage Centre from early Christian through Viking, Medieval, Victorian and modern times in Dalkey (available in 12 languages).
Writers' Gallery: Explore the area's literary and creative connections in the Writers' Gallery from Bono to Joyce, Maeve Binchy and more.
Guided Historical Walks leave from Dalkey Castle & Heritage Centre on Wednesdays & Fridays from 1st June to 31st August at 12.00. (Must be pre-booked with a minimum number of 6).

Guided Literary Walks to settings in the work of James Joyce, George Bernard Shaw, Flann O'Brien and Hugh Leonard. Also covers Maeve Binchy and Joseph O'Connor. Selected dates. Can be pre-booked for groups, a minimum number of six.
Open all year round 6 days a week. Closed on Tuesdays.

January - March & November - December: Monday - Friday: 10.00 -17.00, Weekends & Bank Holidays: 11.00 - 17.00.

April, May & September - October: Monday - Friday: 10.00-17.30, Weekends & Bank Holidays: 11.00-17.30.

June - August: Monday - Friday: 10.00-18.00, Weekends & Bank Holidays: 11.00-18.00.
Admission:
Adult: €8.50 per person
Student: €7.50 per person
Senior/Concession: €7.50 per person
Child: €6.50 per person (over 4 under 12) Children u 16 must be accompanied by an adult
Family: €25.00 (2 adults + 2 children under 12)
See website for details: www.dalkeycastle.com Tel: +353 01 285 8366 Email: info@dalkeycastle.com
Facebook: www.facebook.com/dalkeycastleandheritage